The Community-
The Camino Hills Active Adult Community is located in prestigious Carlsbad, California. Carlsbad, by the way, is the only California city listed in Kiplinger Magazine's 10 Great Places to Retire in 2015.
Camino Hills is a gated Age 55+ community with 145 upscale manufactured homes where you own both the home and the land that the home rests on. This community was built in the mid to late 1980s. Its landscaping is characterized by well-manicured trees, shrubs, and flowers and hill and canyon views. These attributes, combined with an outstanding community center and a great location, offer a comfortable, year-around lifestyle that can provide years of enjoyment during your active retirement years.
Its Great Location-
Camino Hills' location; 3 1/2 miles, as the crow flies, from the Pacific coast (See a MAP), produces a very mild year-around Climate that ranks with "The Best Weather Place in the U.S." Its close proximity (approximately 3 miles) to the North-South I-5 coastal corridor provides easy access to other North San Diego County cities; South to the beautiful city of San Diego and San Diego International Airport, (a 35 mile drive) and north to Orange County and to the rest of California.
For those who still wish to work, Camino Hills is located near many of Carlsbad's huge selection of High Tech and Hospitality/Tourism jobs.
Living in Camino Hills also means that you're never far from public beaches, fine, moderately priced restaurants, quality shopping, movies, live theater, theme parks and other recreational sites. Here are some examples:
South Carlsbad State Beach is locate only four miles to the West. Three miles to the East, you will find the Carlsbad Premium Outlets and 6 miles North, just off of I-5, The Shoppes at Carlsbad mall. The Cinépolis Luxury Cinemas La Costa, and Carlsbad's new beautiful Carlsbad Dove Library are also located only 4.5 miles away. You will find literally hundreds of restaurants nearby, including 15 highly rated restaurants and an adjacent 18 screen Edwards Cinema movie theater located in Old California Restaurant Row in San Marcos only 6.5 miles away. Vista's famous Moonlight Stage Productions Amphitheater live performance theater is only 10 miles away. Legoland California theme park is 3.5 miles away and the wonderful Museum of Making Music only 3 miles away.
If you are a pilot, McClellan-Palomar Airport is only 3 miles away.
Things to do-
Camino Hills has a beautiful clubhouse with a full kitchen, a library, a ballroom, an exercise room that has cardiovascular and weight-training equipment and a game room that is equipped with a billiards and table tennis. It also has a beautiful pool and spa, an outdoor BBQ, a patio, a tennis court, walking and biking trails and a R.V. and boat storage lot.
In just in case these aren't enough amenities for you, the excellent Carlsbad Senior Center located less than 4.5 miles away offers hundreds of activities. And in addition to all that, sunbathing, beach walking, surfing, swimming, fishing and beautiful beach sunsets are also available along Old Highway 101 less than 4 miles away.
For golfers, Carlsbad has three exceptional golf Courses where "golf isn't just a game, it's an experience." Namely; The Omni La Costa, where the greatest names in golf history have come to play, The Crossings; voted by GOLF Magazine as one of the "Top 10 New Courses You Can Play " and the Hyatt Aviara, the only San Diego golf course designed by Arnold Palmer. It is also home to Rancho Carlsbad Golf Club a challenging 18-hole public access executive course and is close to many additional fine nearby Golf Courses.
Home Styles-
Camino Hills has a large variety of manufactured homes styles. They include two and three-bedroom, two-bath models ranging in size from approximately 1350 to 1900 sq. ft. Some homes have attached 2 car-garages, some have tandem single-car garages and some have carports.
Home Availability-
This is a relatively small community so there are usually only a small number of homes offered for sale at any given time. Frequently there are no homes for sale at all for short time periods.
Home Prices and Home Owner Fees-
Current Prices (July, 2018): Low $400K to Low $500K Range.
Home Owner's Fees (Approx.): $200 per month- Pays for Common Area Maintenance and Gated Community expenses. RV parking is also available.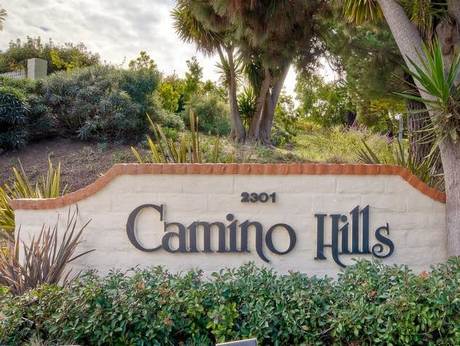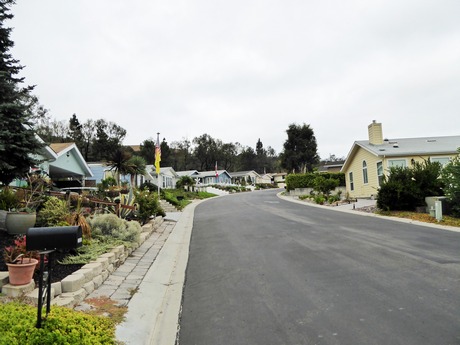 Camino Hills is a gated Active Adult Community of
well-kept homes on quiet streets.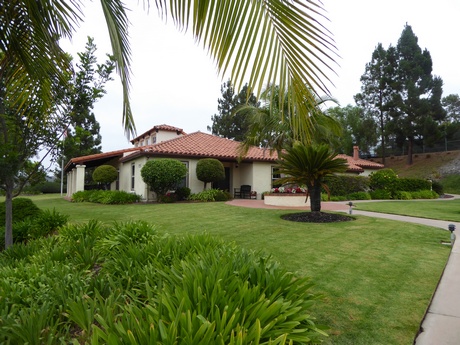 Camino Hills has a beautiful Clubhouse with an adjacent
pool, spa, patio and tennis court.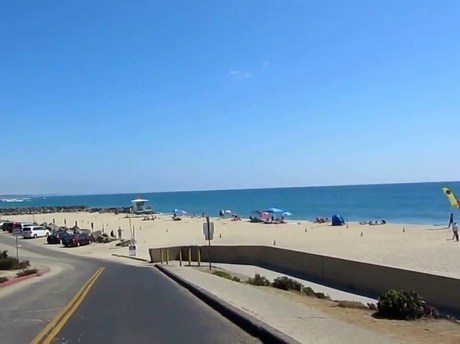 Carlsbad's Tamarack State Beach is located only 5 miles away. Its beautiful sandy beach and tri-level walkways make it a great place to sunbathe, surf, take long walks, jog or simply walk your dog on the upper walkway. It is one of Carlsbad's 3 beaches that are open to the public.
These public beaches are nearly deserted during the off-season.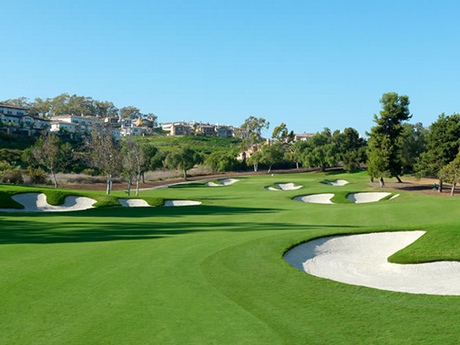 The beautiful and challenging Omni La Cost Golf Course Golf Club is one of 4 local golf choices.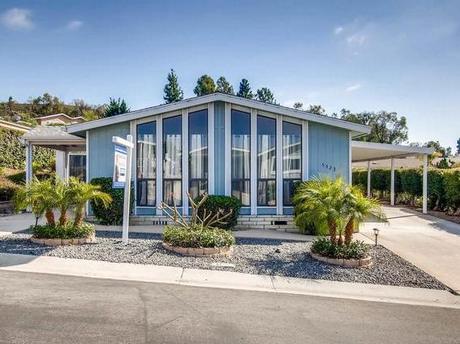 These two recently sold Camino Hills homes are examples
of the diversity of styles of the homes here.