Legal Page
"RetireNSDC.com "
Is brought to you by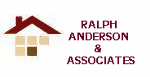 ---
We prefer to work the old-fashioned way with a "handshake and a promise."
Unfortunately, in this litigious society, the material on this page is required to do business.
---
This Page Contains
Terms and Conditions of Use Disclaimers Privacy Policy
Copyright Protection
---
(Revised on 08/15/16)

By Accepting these Terms and Conditions of Use:

1. You authorize Ralph Anderson & Associates to review the information submitted on the Contact Us form and to share it only with our partners listed in our current About Us webpage. If requested to do so they will contact you, attempt to answer your real estate questions and with your permission serve as your personal real estate agent.

2. You declare that you have read and accepted the Disclaimers and Privacy Policy below.

3. You agree to indemnify and hold Ralph Anderson & Associates harmless from any claim or demand including reasonable attorney's fees that may result from the outcomes of any decisions that you make based on the information presented by the RetireNSDC.com website or from any of your dealings with the real estate agent that we introduce to you or of dealings with the real estate sales or brokerage firm for whom the real estate agent works.

NOTES: To Return to your partly filled in CONTACT US Form, click-on <

Back in the upper left-hand corner of your screen.

To start a new form, go to the bottom of this page and click on the CONTACT US button.
---
(Revised on 08/15/2016)
1. Service Limitations Disclaimer:
The services provided by Ralph Anderson and Associates are limited only to maintaining this website and to arranging introductions (referrals) of potential real estate buyers to licensed Real Estate agents WHO ARE EMPLOYED BY ESTABLISHED REAL ESTATE SALES AGENCIES.
---
2. Website Disclaimer:
The ENTIRE RetireNSDC.com website is provided to you free-of-charge, "as is," without warranty of any kind, either expressed or implied.
The Details:
2.1. We at Ralph Anderson and Associates make every effort to ensure that the information presented in, on or through the RetireNSDC.com website is accurate. However, because it communicates information provided and created by other web sites and publishers, from interviews and telephone and written communications with various knowledgeable but unverifiable sources and from other third parties, we have no control over the accuracy, reliability, timeliness, copyright compliance or legality of such information and therefore, the application of or use of these data shall be at the sole risk and responsibility of the user and Ralph Anderson and Associates shall not be held responsible for any resulting loss or damage caused by use of such information.
2.2. This website contains external links as a convenience to our visitors that are not the responsibility of, or under the control of Ralph Anderson and Associates. Linking to a website does not constitute an endorsement by Ralph Anderson and Associates or any of its associates or employees, or of the sponsors of the site. If you use these links, we take no responsibility and give no guarantees, warranties or representations, implied or otherwise, for the services provided, content or accuracy of these third-party sites.
---
RALPH ANDERSON AND ASSOCIATES IS COMMITTED TO MAKING THIS WEBSITE A TRUSTED ENVIRONMENT. We honor your privacy and do not pass information that you submit to us to anyone without your KNOWLEDGE AND permission.
The Details:
1. Personal Information: You can visit this website without revealing any personal information about yourself. If any personal information is submitted, it is strictly on a voluntary basis by contacting us through the Contact Us form or by postal, email or telephone systems. We will not share e-mail addresses or any other personal information submitted to us with anyone except with our partners listed on our current About Us webpage. unless the Public Records Act or a court order requires disclosure.
2. External Links, Third-Party Partners: Links to third-party web sites from RetireNSDC.com are provided solely as a convenience to you. We are not responsible for the privacy policies of other sites.
3. Acceptance of This Privacy Policy: By using the RetireNSDC.com website, you agree to this Privacy Policy. Any updates to our policy will be made to this website. Your continued use of this website following the posting of changes to this Privacy Policy will signify your acceptance to these changes.
---
United States copyright law and international treaties protect the textual, graphic, audio, and audiovisual material in this site. You may not copy, distribute, or use these materials except as necessary for your personal, non-commercial use. Any trademarks are the property of their respective owners.
---
---
---
©2005-2018 Ralph Anderson & Associates - All Rights Reserved