Looking for A Great Place to Spend Your Retirement Years?
NORTH SAN DIEGO COUNTY HAS THE NATION'S BEST YEAR-ROUND CLIMATES

Did You Know:
Coastal San Diego is rated the Best Weather Place in the U.S. and ranks 7th in the 10 Best Weather Places in the whole world!
A home in North San Diego County's Near-Coast Climate may require:
1/4 of the Air Conditioning of a home in Orlando, FL and
1/3 of the Heating of a home in Boston, MA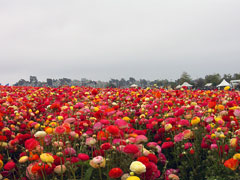 Spring- Carlsbad Flower Fields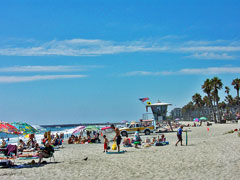 Summer- Beach in Oceanside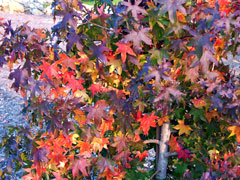 Fall- Liquidambar (Sweet Gum) Leaves. Yes, we do have some fall color!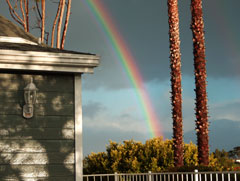 Winter- Our Rainy Season
OVERVIEW
Tired of - Hot, Muggy Summers - Long, Cold Winters - Rain, Rain, Rain - Smog?
You Will Simply Love Our Great Year-round Climates!
North San Diego County is a great place for year-round outdoor activities such as golf, tennis, fishing, boating, swimming, surfing, hiking, picnicking, barbequing, gardening or just walking along the beach; beaches that are nearly vacant during the fall, winter and spring months.
Although our climates vary slightly between our Coastal, Near-Coast and Inland regions, they all rank high among the best in the nation. We have "Mediterranean" type climates with low relative humidity, a fair amount of winter rains and mild temperatures throughout our Four Seasons.
Our summers are mild with average August highs in the low 70's (°F), (Coastal), to high 80's (°F), (Inland). We have very few hot, muggy or windy days, few thunderstorms, no hurricanes. Damaging hail and tornadoes are almost unheard of here and we have few mosquitoes and other bugs.
We have mild Winters too. Our average January lows are in the 40's (°F) and we never get snow or black ice. Winter days are mostly sunny and beautiful with green hills in the background and an abundance of flowers.
Learn more about our climates and compare them to climates of other possible retirement places below:
CLICK BELOW FOR SPECIFICS
---
GET ACQUAINTED WITH RETIREMENT LIVING
IN NORTH SAN DIEGO COUNTY
HERE IS A DIRECTORY TO HELP PLAN
- YOUR VISIT - YOUR DAY - YOUR RETIREMENT -